I consider myself a pretty good cook; but I'd never call myself a baker.  It's not that I wouldn't like to be; but I'm one of those gals who has a tough time baking goodies and not snitching from the cookie jar when I walk by…five times a day!  If there are sweets around, I can rationalize well enough to make even chocolate cake seem healthy for breakfast. So, for the most part, I either stay away from cookbooks full of sweets, bake for special occasions, or at the very least, bake during a week when the kids are with us and food disappears at the speed of light.
I made the mistake of making these tartlets on a non-kid week and guess who ate every last one?  Yep!  Jim is more of a cookie or brownie kind of guy so he wasn't tempted.  Two were devoured all dressed up with vanilla bean ice cream and yes, I had two for breakfast….fresh apples, a little bit of pastry…MUCH better than a pop-tart, right?
The inspiration for this recipe was Dorie Greenspan's, Baking from My Home to Yours.  I found the book a few weeks ago while trying in vain to organize my cookbooks and culinary magazines.  It must have been a selection of the month from the cookbook club automatically and sent to me one of those times I diddled around and forgot to send the little card back. I made a couple changes to the recipe and when I make it again….for Thanksgiving or something, I'll make the last change, which is reflected in the recipe below.  The apples in the original were too big and chunky for my taste.  Next time I'll cut them into smaller pieces for better baking and easier eating.
If you're not particularly fond of baking or if you're intimidated by too much precise measuring, you'll appreciate this recipe.  It's dead easy but yields beautiful results. 
Notes: Feel free to play with the spices and with the sugar quantities to suit your own taste.  These weigh in at around 500 calories each – which is not exactly a low-cal treat; but compared to the trans-fat laden muffins we often grab from the coffee shop that are easily five-hundred plus calories and don't contain a tenth the nutritional value (thanks to the apple), in my mind, these are a much better choice….even, on occasion, for breakfast :)
Enjoy!
Ingredients
1 cold sheet of puff pastry
2 firm apples of your choice (I pefer honey crisp or granny smith)
Cinnamon, clove, nutmeg, or a combination of the three for sprinkling
4 tablespoons dark brown sugar
4 teaspoons cold butter, cut into pieces
1 egg, slightly beaten
Instructions
Center a rack in the oven and preheat to 400 degrees.
Cover a baking sheet with parchment paper.
Cut puff pastry into 4-4 inch circles and place onto parchment.
Peel apples, cut them in to halves and core them.
Cut each half into six or eight chunks and center on puff pastry.
Top each apple with one tablespoon brown sugar, spices, and cold butter.
Brush pastry with beaten egg.
Bake for about 25 minutes (time will vary depending on your apple variety and how large the apple pieces are) until the pastry is deeply browned and puffed around the apple, and the apple can be easily pierced with a knife.
I'm sharing this recipe at Ekat's Kitchen's Friday Potluck and Fat Camp Friday at Mangos and Chutney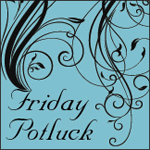 Related Posts: