Happy Hearth 'n Soul Hop Tuesday everyone!  Last week was fantastic.  As a new host I visited tons of sites that are new to me and "met" some great new bloggers.  I commented on everything from cool mango sorbet at Sinfully Spicy to warm mushroom and haloumi salad at Sidewalk Shoes.  I can't wait to see what great recipes this week brings.
My contribution is a light and airy spring time dessert - Flourless Honey and Almond Cake.  I hope you love it as much as we did.
Hearth and Soul Mission
It's about food from your hearth, made for your soul. Food that follows your intuition. Preparing food from scratch to nourish your family…body, mind AND soul! Food made with your own hands…infused with energy and passion and intent. Real food made by real people to feed real families (big and small, in blood or spirit). Ingredients from scratch, be it something grown in your garden or raised on your land…food foraged in the field or woods…food from local farms, farmers, or farmers markets…or even ingredients chosen by you from your local market that will be turned into something that feeds your soul. Tapping the food memory that each of us has stored inside; letting it guide and influence our own time in the kitchen.
We hope to embrace not only the "expected" areas of real food, but also those who want to incorporate healthier choices without sacrificing their love of food…how it tastes, the memories it conjures up, the comfort it brings. Yes, we're trying to steer clear of packaged, processed, and boxed foods in favor of real foods….without absolutely excluding the sometimes frowned upon white sugar or flour (because the body craves what it craves…and sometimes things just don't taste the same when you replace these). Making conscious choices and being present in the now with what your body needs…and taking steps towards exploring and enjoying healthier choices. If you take the time to listen, your body will tell you what it needs.
The warm comfort of the home hearth…stories, anecdotes, lessons, adventures, journeys, recipes, meals, beverages…we want to share the "why" of how food feeds more than just our bodies…how it also feeds our souls. After all, aren't these the essential ingredients in defining real food? Please share links from your Hearth 'n Soul with us each week.
Basic Rules for Linking
Please use your best blog hop etiquette when linking.
Please link a recipe using the linky tools below and your link will be shared over many different blogs and many different blog audiences. Recipes should include healthy ingredients and can be old or new recipes or posts.
Please, link only once per week.
Please link back to one/any of the host sites (through worded link or badge) in individual post, not on sidebar…although we love having links on your page, as well (this benefits all of us).
Please link a post that closely fits into the mission. Linky will stay open from 10 pm Monday to 11:59 pm Thursday (Eastern time).
For more information please visit the Detailed Rules for Linking page.
Our Request - We love Twitter followers and will  follow back if you let us know you're a Hearth 'n Soul participant.  Any Tweets about the Hop are always greatly appreciated! 
If you wish to share the link-love by using a Hearth and Soul badge, we really appreciate it!  Simply copy and paste the code below the graphic into the bottom of your blog post.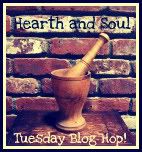 Let the fun begin!!!
Thanks!  The Hearth and Soul Hop Team!
---

This linky list is now closed.
Related Posts: